I really picked up my anime watching this year. There were so many ones that I watched to fill the time between dramas and movies. The more I've watched, the more I've slowly learned the genre names beyond the norm; Shounen, OVA, and Josei. The more I've watched, the more the realization comes that a lot more dramas originate/comes from anime/manga/webtoons. This year more than ever, I've been delighted with anime styles and artistry. Some of favorites:


Banana Fish
Synopsis
Aslan Jade Callenreese, known as Ash Lynx, was a runaway picked off the streets of New York City and raised by the infamous godfather of the mafia, Dino Golzine. Now 17 years old and the boss of his own gang, Ash gets his hands on a mysterious drug called "Banana Fish"—the same two words his older brother, Griffin, has muttered since his return from the Iraq War. However, his investigation is hindered when Dino sends his men to retrieve the drug from Ash at an underground bar he uses as a hideout.
At the bar, Skip, Ash's friend, introduces him to Shunichi Ibe and his assistant, Eiji Okumura, who are Japanese photographers reporting on American street gangs. However, their conversation is interrupted when Shorter Wong, one of Ash's allies, calls to warn him about Dino. Soon, Dino's men storm the bar, and in the ensuing chaos kidnap Skip and Eiji. Now, Ash must find a way to rescue them and continue his investigation into Banana Fish, but will his history with the mafia prevent him from succeeding?

My absolute favorite for the year!
---

Battle Through the Heavens
Synopsis
In a land where no magic is present. A land where the strong make the rules and weak have to obey. A land filled with alluring treasures and beauty, yet also filled with unforeseen danger. Three years ago, Xiao Yan, who had shown talents none had seen in decades, suddenly lost everything. His powers, his reputation, and his promise to his mother. What sorcery has caused him to lose all of his powers? And why has his fiancee suddenly shown up?

Chinese anime; not the drama (which I never finished). Much better to watch!
---

Dakaretai Otoko 1-i ni Odosarete Imasu
Synopsis
"I'll make it so your body's unable to forget mine."
Saijou Takato's five year reign as the "Most Huggable No. 1" has been snatched. Stealing his thunder is the newbie actor with a three-year debut, Azumaya! Toward the stuffy hostile Takato, Azumaya's sincere sparkling smile starts to become effective. Even as Takato sets his alert level on MAX, Azumaya catches Takato in his shameful drunken state and uses it to blackmail him! In exchange for Azumaya's silence, Azumaya states, "Please let me hold you…?! Embrace me, who

Yaoi anime for sure! Not for everyone's consumption for sure!
---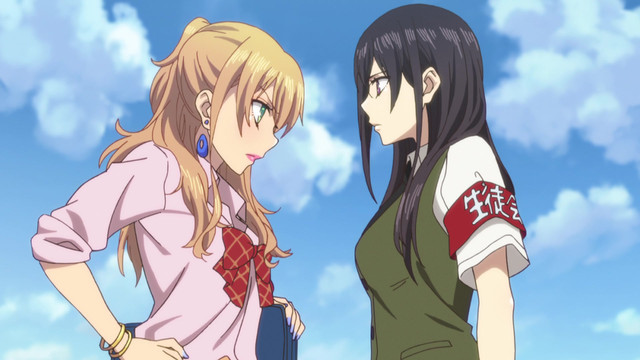 Citrus
Synopsis
Yuzu, a high school gyaru who hasn't experienced her first love yet, transfers to an all-girls school after her mother remarries. She's beyond upset that she can't land a boyfriend at her new school. Then, on her first day, she meets the beautiful black-haired student council president Mei in the worst way possible. What's more, she later finds out that Mei is her new step-sister, and they'll be living under the same roof! And so the love affair between two polar opposite high school girls who find themselves drawn to one another begins!

All I can say is OH MAI! Better not let the kids watch this one!
---

Thunderbolt Fantasy 2
Synopsis
What happens when you then take Gen Urobuchi from Nitroplus and partner him with Pili International Media, the company responsible for the glove puppetry media with the highest production values? The result is a miraculous collaboration. The result is an all-new wuxia fantasy series, with Gen Urobuchi providing the premise, screenplay, and series composition, and Pili handling the filming and production: Thunderbolt Fantasy!

Both seasons if you haven't watched it! Not really anime, but puppetry! Very impressive!! Art work for sure!
---

Soul Land (Honorable)
Synopsis
Tang San is one of Tang Sect martial art clan's most prestigious disciples and peerless in the use of hidden weapons. With high expectations, the sect's elders believe his future will be bright; yet Tang chooses to forsake this life at the cost of obtaining the sect's forbidden lore—an action punishable by death. Tang, now content with his ascension of knowledge, sees no reason to keep on living and jumps from Hell's Peak, but little did he know that that would not be the end of his existence.

Chinese anime that I'm still hoping that live action!!