I love remakes when they honor the original story and is done well. No surprise here that the screenwriter, Taeko Asano (Love Generation, Kamisama Mou Sukoshi Dake, Last Friends) and Director, Ishii Yasuharu (Byakuyako, Kurosagi, Ouroboros) would put together a great rendition of one of my favorite super melodramas, the Korean drama, Sorry, I Love You.
Stars
Nagase Tomoya
as Ozaki Ritsu
Yoshioka Riho
as Mita Rinka
Sakaguchi Kentaro
as Hyuga Satoru
Otake Shinobu
as Hyuga Reiko
Ikewaki Chizuru
as Kawai Wakana
Yamaji Kazuhiro
as Kurokawa Tatsuomi
Rokkaku Seiji
as Kagami Shuhei
Nakamura Baijaku
as Mita Tsuneo
Kusamura Reiko
as Tachibana Satoko
Onishi Ayaka
as Toko Furusawa
Lee Soo Hyuk
as Baek Ran (Guest Role)
---

Synposis
Ritsu was abandoned by his mother Reiko when he was little, so now he belongs in the lower social strata. One day, Ritsu is shot and his head is severely injured, so he can die at anytime. Convinced she abandoned him due to poverty, Ritsu attempts to find his mother and be good to her before his death. But when he learns that she is leading a happy life instead, with her pianist son Satoru, he decides to take revenge on his mother. Ritsu then meets Rinka, a girl whom he happened to help in the past, and discovers she is Satoru's childhood friend.
Episodes: 10
Aired: Jul 9, 2017 – Sep 17, 2017
Network: TBS
Duration: 45 min.
---

My Thoughts
This is my fourth Nagase Tomo drama! Since I first seen his Mukodono!, I've been obsessed with watching all of his dramas that I could find. I find his ability to diversify his roles as an idol actor (He is a member of Tokio, a Johnny & Associates musical group) to be impressive at best. The best thing about Gomen Aishiteru is the fact that it captured my attention enough for me to marathon watch all 10 episodes in just over a day!


When you are a fan of the original, you have big expectations that the remake will hold true to the original. Though this J-version doesn't hold true to the original, the screenwriter, Taeko Asano manages to spin a tale that is just as effective.


Taeko Asano took the story from Australia (where the K-version started) to South Korea which basically paid homage to the origin of the drama. As bodyguard and close friend to gangster leader, Baek Ran (played by Lee Soo Hyuk), their closeness and friendship went beyond leader/bodyguard. Ran's love for his brother, Ritsu was seen immediately from the first scene. I actually enjoyed the SK scenes and thought they were better orchestrated than the K-drama. The bromance between the two characters is way too short. But what else would you expect of a 10 ep drama?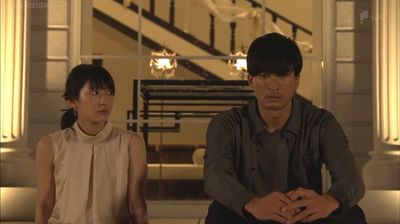 The rest of the story weaves the original in and out from this point. The relationship between Rinka and Satoru are flipped; meaning Rinka is the one with the one-sided love for Satoru. She loves him but he has no interest or really is just clueless. Her relationship with Ritsu (Rikku as he's known for most of the drama) is a slow build friendship. He was rather refreshing to watch as they slowly learned to love each other. But poor Rikku knew his fate so he avoided it as long as he could. Nicely done.


I like that Satoru's character (played by Sakaguchi Kentaro) was just as annoying to me in the beginning as Jung Kyung Ho as Choi Yune was! His character just as much a spoiled brat too!


Though a talented pianist, I have to say his success in performing was due to Rinka's insistence and guidance. Sakaguchi Kentaro did a pretty good job in portraying this character. I fluctuated from disliking him/being okay with him to finally being indifferent to his character. To me, that's a good sign.


Satoru's mega crush on Toko Furusawa (played by Onishi Ayaka), was the only time I ever felt truly sorry for his character. What a BITCH! Toko and her revenge on the male species because of her adulterous father made little sense as she used and abused Satoru who adored her. I have to admit it wasn't until the end that I felt anything but contempt for her character.


One character who deserves being mentioned is Kawai Wakana (played by Ikewaki Chizuru). Wakana's simple ways and loving persona was just a joy! As Rikku's childhood friend that grew up with him in the orphanage, she showed her love for Rikku as well as her son in such a way, it brought joy to your heart.


As a woman who survived a childhood accident and still was able to raise a son, she was a great edition to the story. Ikewaki Chizuru did an excellent job in portraying this woman who truly had the mentality of a child.


I worried a little about the pairing of Tomo with Riho. With 14 years age difference, it is always a concern for me that the characters don't really do well together.However, surprisingly or should I say not surprisingly, they worked well together. The gradual love that developed between the two was sweet and wonderful to watch. As one became aware of their feelings and the other tried to avoid them, both feelings were projected to the audience well.


Last but not least is the mother, Hyuga Reiko (played by Otake Shinobu). Talk about a mother that you pretty much hated from the beginning until almost the end. As you can guess, you as the audience don't feel anything good about this woman who you believed abandoned Rikku as a baby and yet showers excessive love on her new replacement son, Satoru to the point of it being sickening.


Her character is probably the only one I fault the writer in not exploring more at the end. Some things are left on the cutting room floor that should have been in the drama.


Overall, this drama was well worth watching. For those that were a fan of the original, I'm sure you won't be too offended by the writer's divergence from the original story; because this was very well done. For those that didn't like the K-version, I can assure you that you will like this one. I have only one complaint and I feel that you will to. Please comment what you thought of this remake. As usual, Japanese remakes are very well done. I'll have to add this to my successful remake list. What about you?
MDL Rating: 8.5/10