Starring: See Cast List Below
Rating: PG13-R, subject matter and violence
Running Time: Varies
Twinkies: 4 stars and up
Movie Thoughts: I've been remiss in writing movie reviews, I apologize. My work life has been pretty hectic and beginning in 2018, it will get worse. So, during the next 2 months of holiday leave and time off, you will see a large flurry of posting because next year, you'll barely get a post a month, if I'm lucky! As you notice, I've hardly watched any of the Korean or Japanese movies that I have on my list to watch. The list continues to grow and its doubtful that I watch any this year; However, the best of what I watch so far seem to be coming from China and Hong Kong. These four definitely represent the best I've seen this year….so far.
Starring: Kaneshiro Takeshi as Lu Jin, Zhou Dong Yu as Gu Sheng Nan, Sun Sean as Xiao Meng, and Yang Tony as Cheng Zi Qian
Running Time: 106 min


Synposis: 29-year-old Gu Sheng Nan is a chef at a Western restaurant in a hotel who is in a secret relationship with the hotel's general manager. After a financial crisis hit the hotel, the manager breaks up with her and she loses her job at the same time. In this state of distress, she meets the picky and arrogant Lu Jin, who is there to take over the hotel, and forms a relationship with him. They become a couple despite their wildly different personalities, bonding over their love for food.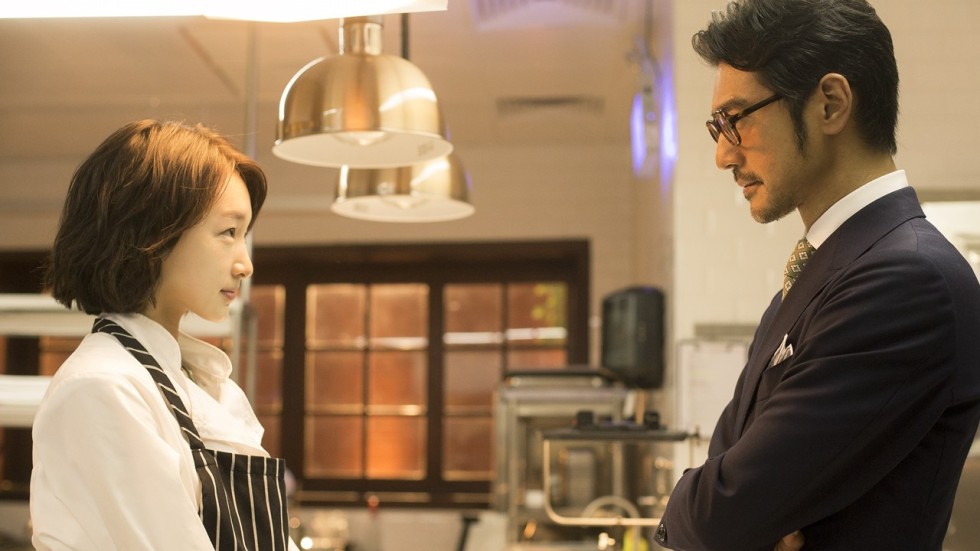 Brief Musings: I enjoyed this movie immensely! First it had one of my favorite actors, Kaneshiro Takeshi. Its a joy to watch him on the big screen and I must admit this is first time ever seeing him in a comedy! Second reason is the food! Foodie movies are always great to watch as your mouth waters from all the great food feature; which reminds me, don't watch this while your hungry. I was worried about the age difference between Zhou Dong Yu (25) and Takeshi (44). But they surprisingly worked well together. The story flowed. The scenes were funny. And the acting was spot on. This is definitely my favorite movie of the year!
Trailer is available on on YouTube Website only.
---
Starring: Wu Jing as Leng Feng, Celina Jade as Dr. Rachel Smith, Frank Grillo as Big Daddy, Hans Zhang as Zhuo Yifan, and Wu Gang as He Jianguo
Running Time: 100 min


Synposis: The sequel sees Wu, a former national martial-arts champion, reprise his role as a special forces marksman leading an elite squad on patriotic duty. But it relocates the action to a fictional war-torn country in Africa.


Brief Musings: If you are looking for action, this movie is for you. If you are looking for a movie that was better than the first; this is definitely the movie. Not only was there triple the action, it was just a more interesting story to follow as the characters made their way through Africa as war tore through the country during a coup. I also found the story interesting as it featured Chinese and African couples. I was kind of surprised about that. Overall, this was an action packed vehicle. Lots of killing, fighting and blowing stuff up! My type of movie!
Trailer is available on on YouTube Website only.
---
Starring: Andy Lau as Cheung Choi-san, Jiang Wu as Hung Kai-pang, Song Jia as Carmen Li,
Philip Keung as Kong Yiu-wai, Ron Ng as Ben, Leo Wang as Hung Kai-piu, Felix Wong as Officer Chow, and Shek Sau as Wan Hiu-fung
Running Time: 118 min


Synposis: When a terrorist who specializes in explosives takes hold of an underground tunnel, he threatens to kill hostages if his demands are not met.


Brief Musings: Again, another favorite of mine when it comes to the disaster/crime genre. Most of the filming takes place in a tunnel but its interesting how the story flows even though the scenes are limited. Once again, Andy Lau delivers a great performance as a explosive ordinance specialist that is trying to save many innocent people trapped in a tunnel with a mad man terrorist who literally does carries out his threats of killing innocent people if he doesn't get his way. The action was on point and the ending was explosive!
Trailer is available on on YouTube Website only.
---
Starring:Gwei Lun-mei as Li Yuran, Wang Jingchun as Station master, Ouyang Nana as Xing Xing, William Wang as Tian Tian, Joy Pan as Qian's mom, and Hsieh Ying-shiuan as Ms Zhao
Running Time: 106 min


Synopsis: Li Yuran is a successful female lawyer who one day gets into an unfortunate accident on a highway. After the accident, she is forced to take on a new role as a housewife. The story follows her transformation from a single successful woman to a full-time housewife with her architect husband and two kids.


Brief Musings: Chinese love to do their remakes on movies. I must say that they are usually pretty successful in doing them. So, this remake of my favorite from last year's Korean movie, Wonderful Nightmare, did not disappoint. The story was slightly changed; however, the basic premise of the story remained the same. The acting was decent but my familiarity is more with Wang Jingchun from various movies I'd seen him in; Lun-mei was a newbie for me even though she has had several movies before, I've just not seen any of them. Very entertaining and decent movie to see.
Trailer is available on on YouTube Website only.
---
I'm available on Twitter. Thanks to all of you Twinkles out here who are taking the time to read! If you have a suggestion for a future review, just leave me a comment! I'm always happy to have movie suggestions.