Starring: See Cast List Below
Rating: G to PG
Running Time: Varies
Twinkies: 4 stars and up
Movie Thoughts: I have to admit for the first time that I didn't really rate this movies! As a matter of fact, I've only seen 2 of them; however, based on the number of times that the kids that access my Plex watch these movies (this includes my good friend, Nelly's son who is the driving force for A's Movie Corner), these truly were the highest watch Children's movies for 2017! As the Thanksgiving holiday approaches, here are my recommendations to keep the kids busy as you prepare for the holiday weekend.

Starring (voice):
Miles Bakshi as Timothy Leslie Templeton, Tobey Maguire as an adult Tim, the narrator, Alec Baldwin as Theodore Lindsey Templeton (a.k.a The Boss Baby), Steve Buscemi as Francis E. Francis, the CEO of Puppy Co., Jimmy Kimmel as Ted Templeton, Tim's father, Lisa Kudrow as Janice Templeton, Tim's mother, and Conrad Vernon as Eugene Francis, Francis E. Francis' brother
Running Time:
97 min

Synposis: A suit-wearing, briefcase-carrying baby pairs up with his 7-year old brother to stop the dastardly plot of the CEO of Puppy Co.


Brief Musings: I actually watched this one. It was pretty funny at times as Tim tries to inform his parents what his little brother is doing. It's also a great vehicle for children with second siblings to understand and accept their little brother or sister. The movie was a brilliant creation of Dreamworks Animation. Even an older adult like me could enjoy!
Trailer is available on on YouTube Website only.
---
Starring (voice):
T.J. Miller as Gene, James Corden as Hi-5, Anna Faris as Jailbreak, Maya Rudolph as Smiler, Steven Wright as Mel Meh, Jennifer Coolidge as Mary Meh, Patrick Stewart as Poop, Christina Aguilera as Akiko Glitter, Sofía Vergara as Flamenca, and Rachael Ray as Spam
Running Time:
95 min

Synposis: The Emoji Movie unlocks the never-before-seen secret world inside your smartphone. Hidden within the messaging app is Textopolis, a bustling city where all your favorite emojis live, hoping to be selected by the phone's user. In this world, each emoji has only one facial expression – except for Gene, an exuberant emoji who was born without a filter and is bursting with multiple expressions. Determined to become "normal" like the other emojis, Gene enlists the help of his handy best friend Hi-5 and the notorious code breaker emoji Jailbreak. Together, they embark on an epic "app-venture" through the apps on the phone, each its own wild and fun world, to find the Code that will fix Gene. But when a greater danger threatens the phone, the fate of all emojis depends on these three unlikely friends who must save their world before it's deleted forever.

Brief Musings: Well the kids sure love it. I found it so relaxing that I think I fell asleep right after the scene above. The animation is pretty good. This is a Sony Pictures Animation creation. I guess after this movie, your kids will really be into using emoji's. I'm not sure why this is a favorite but it is.
Trailer is available on on YouTube Website only.
---
Starring (voice):
Dave Franco as Lloyd Garmadon, the Green Ninja, Michael Peña as Kai, the hotheaded, red Ninja of Fire, Kumail Nanjiani as Jay, the quiet and cautious, blue Ninja of Lightning, Abbi Jacobson as Nya, the strong, silver Ninja of Water, Zach Woods as Zane, the robotic, white Ninja of Ice, Fred Armisen as Cole, the laid-back, music-loving black Ninja of Earth, and Jackie Chan as Master Wu
Running Time: 101 min


Synposis: Shunned by everyone for being the son of an evil warlord, a teenager seeks to defeat him with the help of his fellow ninjas.


Brief Musings: Again, another fan favorite which just barely beat out its predecessor, The Lego Batman Movie that was also released by Warner Animation Group this year. I imagine the appeal is that so many children are familiar with lego blocks and toys. Since 1949, lego blocks have exist. With such a track record, I expect a few more movies in the future.
Trailer is available on on YouTube Website only.
---
Starring (voice):
Kevin Hart as George Beard, Thomas Middleditch as Harold Hutchins, Ed Helms as Mr. Benjamin "Benny" Krupp/Captain Underpants, Nick Kroll as Professor Pee-Pee Diarrheastein Poopypants, Esq., Jordan Peele as Melvin Sneedly, and Kristen Schaal as Edith
Running Time: 89 min


Synopsis: Two overly imaginative pranksters named George and Harold hypnotize their principal into thinking he's a ridiculously enthusiastic, incredibly dimwitted superhero named Captain Underpants.


Brief Musings: A grown man running around in underpants? Nothing wrong with this story line; but the kids like it. Could be the funny cast and the great animation by Dreamworks Animation once again; I'm not really sure. But, Nelly's son had me looking for this one for months. And the kids out there are still watching it.
Trailer is available on on YouTube Website only.
---
Honorable Mention:

Narration
John Krasinski (American release) and Zhou Xun (Chinese release)
Running Time:
76 min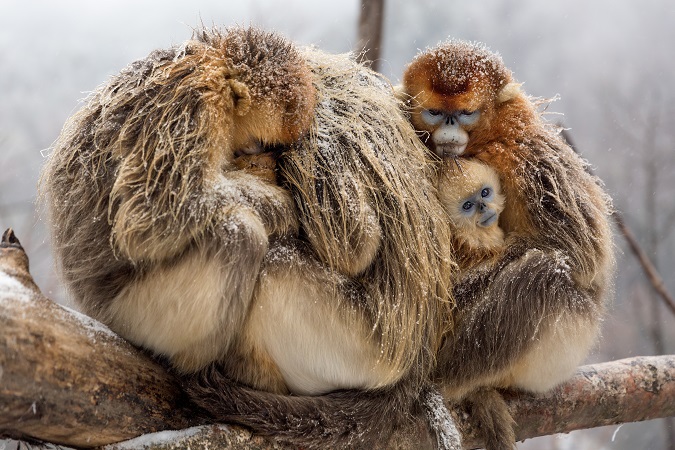 Synposis:
This documentary follows four individual animal families-snow leopard, giant panda, chiru and golden snub-nosed monkey and their fortunes in the wilds of China.

Brief Musings: A well thought out and executed documentary about the wilds of China. I enjoyed this for the information and the entertainment. It also brought to light how many of these animals are revered and respected, something the rest of us who hunt for pleasure and sport could learn. Great cinematography done by Disneynature and the Shanghai Media Group. Nelly's son said it was boring but I thought it was informative and interesting to watch.
Trailer is available on on YouTube Website only.
---
I'm available on Twitter. Thanks to all of you Twinkles out here who are taking the time to read! If you have a suggestion for a future review, just leave me a comment! I'm always happy to have movie suggestions.