Starring: Huang Bo as Jiang Feng, Xu Jinglei as Zhang Daichen, Yang Zi Shan as Chen Shanshan, Yihong Duan as Shen Hanqiang, and Hsu Tiffany as Mystery woman
Rating: R, subject matter and some violence
Running Time: 90 min
Twinkies: 4 stars


Synopsis: A follow-up to Chen's 2014 psychological thriller 'The Great Hypnotist,' 'Battle Of Memories' tells the story of a famous novelist who recovers from a painful divorce by having a decade of his memory wiped. But when he tries to recover the lost memories, he finds himself in the mind of a serial killer.


Musings: This is a movie that you must see! The premise of the movie may remind you of the U.S. movie, Minority Report; however, the difference is that the patients are removing memories; not having their future memories being played to prevent a crime. This is a well-done, well-writer story by Peng Ren, who gave us the Chinese Miss Granny as well as another movie, The Great Hypnotist and Doomsday Reverse. This rather young writer knows his stuff when it comes to the science fiction genre!


The premise of actually wanting to wipe your memory clean when you are going through a divorce can indice the mind into thinking this is a good thing! So, it makes sense to the viewer why Jiang Feng (Huang Bo) wanted to have the procedure done. He loved his wife. In the memories we get to see, that one fact is clear.


However, when his wife, Zhang Daichen (Xu Jinglei) changes her mind with the condition that he restores his memories, what really happens is unexpected. The unexpected is the gun fight that occurs at the facility where another patient is killed by her estranged husband which causes Jiang Feng and another patient's memory cubes to be mixed up. You see what's happening? Yes. Not only does Jiang Feng get his memories back, but they aren't really his memories but of another person. And that person is……a KILLER!!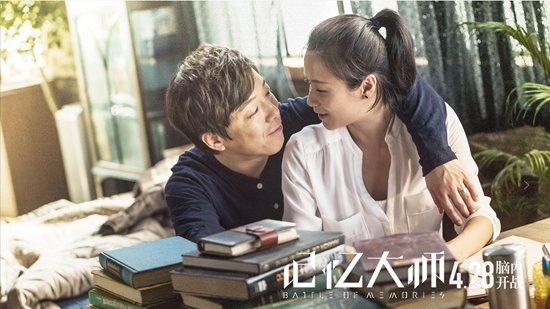 What I love about this movie is the fact that each road and memory that gets revealed takes you down a different path to the killer! I loved how when I thought I had it all figured out, the story would change and I would be surprised how wrong I was. The writer threw clues and cues left/right but none of them actually lead you to the killer.


Yihong Duan as Shen Hanqiang, the police detective that is on the case when Jiang Feng goes to report on his memories is simply sensational! This was my first experience with him but what an actor he is!


If you are a fan of the science fiction genre, you really cannot go wrong with this movie. Peng Ren's other movie The Great Hypnotist is just as good in my estimation! I recommend both!

Trailer is available on on Asianwiki Website only. The movie is available on various streaming websites.


I'm available on Twitter. Thanks to all of you Twinkles out here who are taking the time to read! If you have a suggestion for a future review, just leave me a comment! I'm always happy to have movie suggestions.