Starring: Hrithik Roshan as Jalaluddin Muhammad Akbar, Aishwarya Rai Bachchan as Rajkumari Jodhaa Bai, Sonu Sood as Rajkumar Sujjamal, Kulbhushan Kharbanda as Raja Bharmal, Suhasini Mulay as Rani Padmavati, Raza Murad as Shamsuddin Ataga Khan, Poonam Sinha as Mallika Hamida Banu Begum, and Rajesh Vivek as Chugtai Khan
Rating: PG, subject matter and some violence
Running Time: 214 min
Twinkies: 5 stars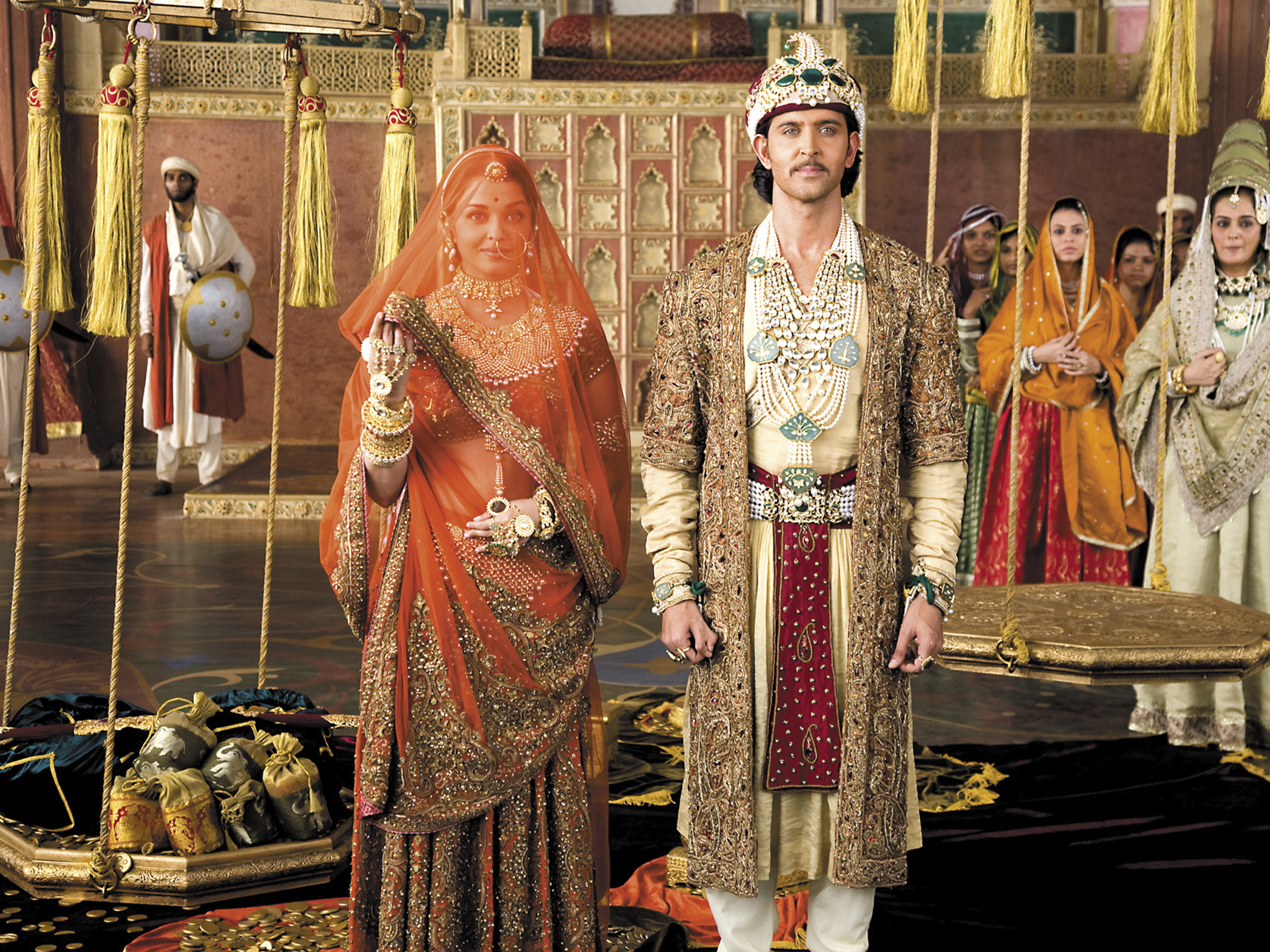 Synopsis: Jodhaa Akbar is a 16th century love story about a political marriage of convenience between Akbar, Mughal emperor and Jodhaa, Rajput princess. The marriage was as a result of the Mughal empire plans to attack Amer. King Bharmal, resentfully offers his daughter's hand to the emperor himself to avoid war. Akbar agrees to the marriage as it would bring forward a true strong alliance and long lasting peace between the empire and Rajputs. Eventually, Akbar becomes the founder of a new religion called Din-e-Ellahi, which combines both Hinduism and Islam.


Musings: I am truly an International movie watcher! Besides Chinese, I've always loved an occasional Bollywood fare! But if you want to grab me quickly into watching a movie, make it a period piece, my ABSOLUTELY favorite!


The acting was stellar! The costuming was beautiful! The sets and sceneries; man-made and from God were stunning! And to add to the fact that the two people who I consider to be simply gorgeous on the screen were brought together in a movie that I didn't know about until it was recommended to me, I thank you!


Believe it or not, my first Aishwarya Rai Bachchan was a cross-over movie called Bride and Prejudice. I swear, it was my first girl-crush! I was so enchanted by Rai. I must have watched 3-4 of her movies following that. But remember, that was a time where it was really hard to find Bollywood movies with English subtitles. Her performance in this was amazing! I was actually impressed with her sword work in the scenes where she practice with her brother, Sujjamal (Sonu Sood) and her leading man! Nicely done.


As far as Hrithik Roshan, its hard to believe that I never saw him until recently on Netflix, the movie, 2001 Kabhi Khushi Kabhie Gham which I loved. I enjoyed that movie so much and once again became obsessed with another actor. He is such a handsome man and I watched everything I could find after that. But this movie wasn't on my radar.


To be able to watch these two actors together was a special treat. Not only in one of my favorite genres but actors together that I fell in love with at first sight. This movie wasn't as big budget as Baahubali was but the entertainment and enjoyment wasn't any less. The romance, for sure was simply stunning and somewhat sensual. Just something you don't see very often in Bollywood; however, maybe it was simply the chemistry that these two had together which made it ooze.


Once again, Rai and Hrithik enticed me with their beauty, acting and a story that I will enjoy again and again! I'm so thankful for my twitter buddies in recommending this gem! Keep it coming! You know what I like now!


Trailer is available on on YouTube Website only. The movie is available on Bollywood streaming websites. Also available on Netflix if you are a subscriber.
I'm available on Twitter. Thanks to all of you Twinkles out here who are taking the time to read! If you have a suggestion for a future review, just leave me a comment! I'm always happy to have movie suggestions.