Starring: Prabhas as Baahubali, Anushka Shetty as Devasena, Rana Daggubati as Bhallala Deva, Tamannaah as Avanthika, Ramya Krishnan as Sivagami, Sathyaraj as Kattappa, and Nassar as Bijjaladeva
Rating: R, subject matter and some violence
Running Time: 171 min
Twinkies: 4 1/2 stars


Synopsis: Kattappa continues to narrate how he ended up killing Amarendra Baahubali. After vanquishing the Kalakeyas, Amarendra Baahubali is declared as the future king of Mahishmati and Bhallaladeva (Rana Daggubati) is declared as the commander-in-chief. Before the coronation, Rajmata Sivagami (Ramya Krishnan) begins to look for a bride for Amarendra. She instructs Amarendra and Kattappa to tour the kingdom to understand its current state and its people.


Amarendra falls in love with Devasena, a princess of the Kuntala kingdom and the sister of the king of Kuntala. Bhallaladeva learns of Amarendra's attempts to woo Devasena and hatches a plot to drive a wedge between Amarendra and Sivagami by asking for Devasena's hand in marriage for himself. Sivagami, unaware that Amarendra is in love with Devasena, promises Devasena's hand in marriage to Bhallaladeva.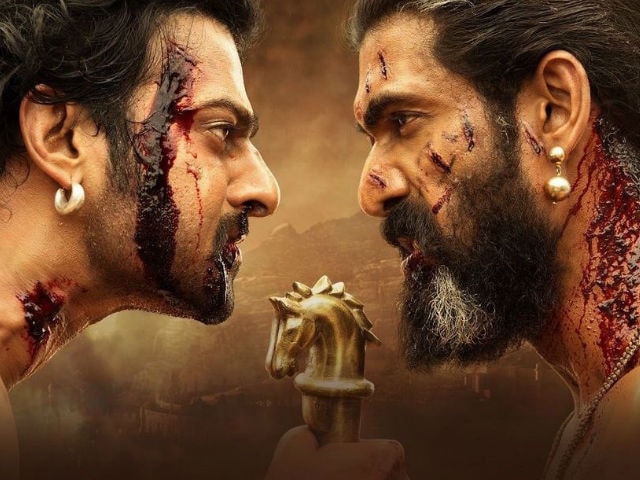 Musings: There is not much in this world that would convince me to spend $23 for one movie showing! Not talking about iMAX, 3D, just a plain old regular showing. However, not only did I spend big dollars but also went out of my way to a theater almost 1 1/2 hours from my house on a weekday to see! Why? It was really hard to find it close with English subbing. Who cared whether it was dubbed Tamil or Telugu as neither are my native language!


The ending of the previous movie was so shocking, it would have behooved me NOT to go and see what would drive Kattappa to kill the one person that he loved with all his heart. Surprisingly, S. S. Rajamouli is simply an excellent story teller. Not only did he thoroughly explain the "Why" but after you watched, your thoughts ran in the direction of "Ahhhh, that makes sense". So often a writer leaves the explanation so convoluted and hard to decipher that you end up wanted to get a refund! But this is not the case. I understood and still felt such sorry for Kattappa for being in such a dire situation. Well done.


Like Baahubali: The Beginning, this movie was heavy laden with CGI scenes, fight scenes and incredible (and sometimes unbelievable) stunts. This second movie also had 2 more things: more romance and singing/dancing scenes.


The romance between Baahubali and Devasena was beautifully orchestrated. As I was sitting in a predominated Indian audience, I was gauging their response. Admittedly, the romance is more than you usually see. Even I was pleasantly surprised. I also thought the romance between Baahubali (father) and Devasena was even better than Baahubali (son) and Avanthika.


As most of the movie dwelled in the past Baahubali, when we returned to the son, Baahubali and his return to Mahishmati to take the throne from Bhallaladeva; It was action after action! CGI scene after CGI! And I was in heaven. I got a kick out of the man sitting next to me with his family, turning to me after the movie and in his surprise to see a non-Indian at the movie who obviously understood the story! As I said to him without a bit of embarrassment, "You have no idea how many times I've watched the first!"


As far as the acting, all I can say it was STELLAR!! From Prabhas to Anushka Shetty to Rana Daggubati and Ramya Krishnan, you can understand why this was one of the most highly anticipated, watched and grossing movies since the 2014 Hindi film PK, which I'm still waiting to see. I know a lot of you don't venture out to other Asian fare but if you don't watch anything else, watch this and the previous movie, Baahubali. I cannot WAIT to buy the Blu-Ray!! Hopefully, this fall!!


Trailer is available on on YouTube Website only. The movie is available at various theaters worldwide. Check your local theaters!
I'm available on Twitter. Thanks to all of you Twinkles out here who are taking the time to read! If you have a suggestion for a future review, just leave me a comment! I'm always happy to have movie suggestions.