Enjoy this rare and infrequent recommendation to a movie that is so totally different than what I usually talk about here. A movie that not only you will enjoy but truthfully, your entire family can watch together!
Cast
Jing Boran
as Tian Yin
Bai Bai He
as Huo Xiao Lan
Jiang Wu
as Luo Gan
Chung Wallace
as Ge Qian Hu
Tsang Eric
as Lin Gao
---

Synopsis
Tian Yin is accidentally impregnated and inside his stomach is the demon king, who everyone wants to take control of. Xiao Lan is a monster hunter and she tries to protect Tian Yin from all the monsters. Her goal is to take the demon king for herself and sell it for a good price. However, both develop feelings for this demon king…


My Thoughts
Wuba! Wuba! Wuba! First of all, my children are grown and it has been many years since I've watched anything that would constitute as family fare. I think The Chronicles of Narnia is probably the last family fare that I've voluntarily watched with my girls! Sure I've seen the Harry Potter series and the dancing penguins movie, Happy Feet willingly. But to actually be the first to watch what I would perceive as family fun? No. Not me.


China wasn't the only one to fall heads over heels for this movie! I truly did!. With a production budget of $56 million USD, this movie went to gross $385.2 million USD thus making it the highest grossing family movie within China for 2015. The Director, Raman Hui is also known for his work at the animation giant, DreamWorks and had worked previously on other movies such as "Antz (1998)" and the "Shrek" franchise to include co-directing the third installment.


Though the movie didn't do as well here in the U.S. (see here), I'll be the first to say that many Americans, especially those with children, don't usually flock to movies with English subtitles. So sad. They really missed a great one!


Jing Boran and Bai Bai He together as Tian Yin and Huo Xiao Lan, respectively, were just great together on the screen. It is rare that you see a strong female as the protectorate for the weaker male. Okay, Tian Yun was the pregnant one but it was a nice change up for once. As Tian Yin, Jing Boran had pregnancy down to the science. He had me rolling with laughter as he suffered through weird cravings, cramps, false labor and the likes. The scene of his delivery is one for the comic delivery books. It was hilarious! Huo Xiao Lan was there for the money! She wanted to make sure that demon king was delivered safely so that she could sell it as she was a Demon Hunter. Her fighting skills weren't the highest Demon Hunter level but I really enjoyed her stunts! Great fight scenes!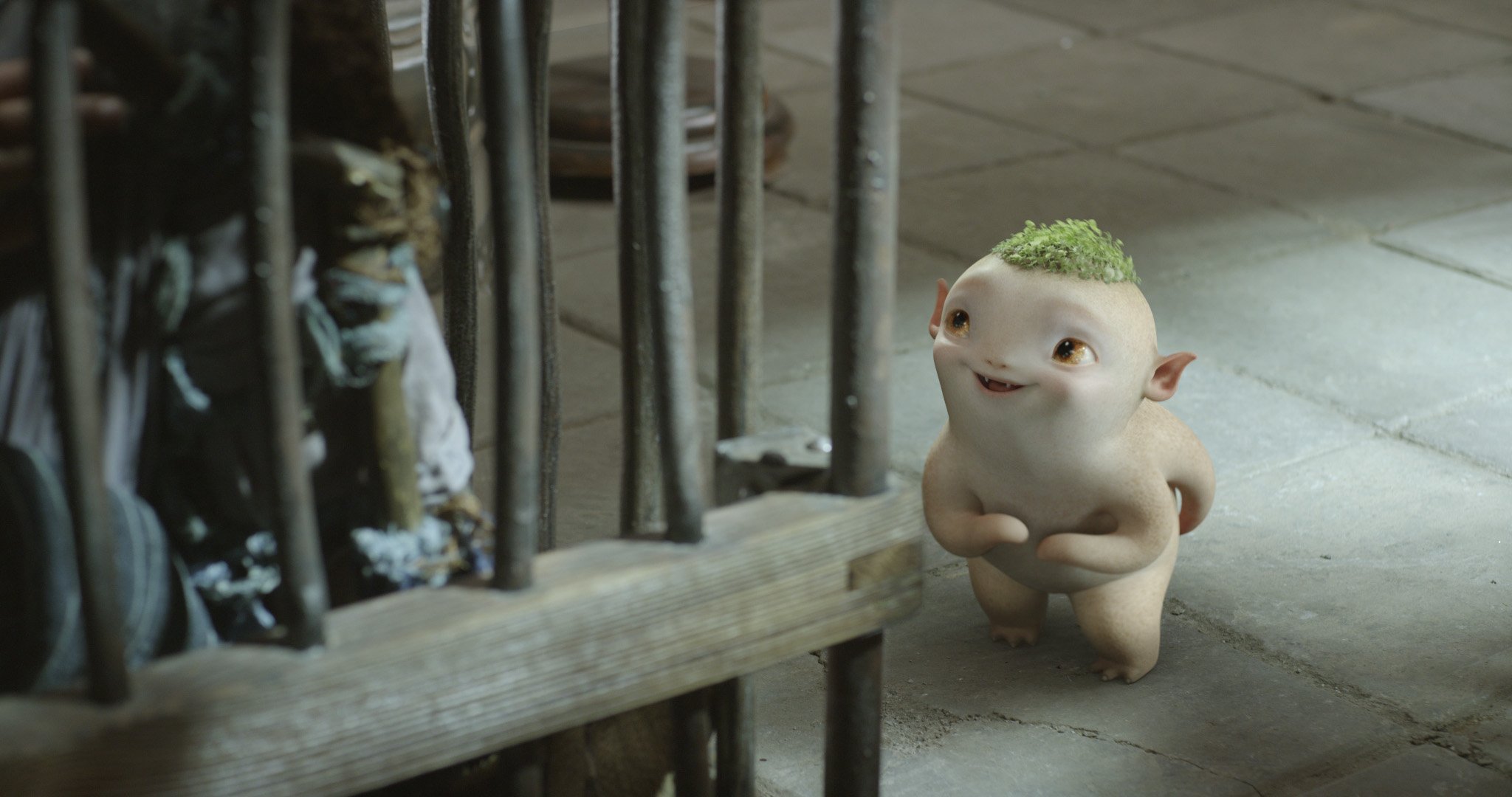 Wuba! Wuba! Wuba! Yes, the true star of the movie was definitely this little turnip looking monster! He was just adorable running around calling Tian, Mommy and Xiao Lan, Daddy! The scene when Tian found out that feeding Wuba certain foods turned in into a deadly weapon, is something you won't forget anytime soon. Wuba chasing after his Mom and Dad, crying when he thought they were going to abandon him, even brought tears to my eyes. I loved it!


I don't care what anyone says, I enjoyed this movie a lot and would watch it again and again. Maybe one day if I ever have grandchildren (not rushing anyone here), I would love to show them too!!
While I'm at it, I also recommend Monkey King: Hero is Back. This is a fully animated tale but almost as enjoyable!