Starring: Rain as Capt Jung Tae-yoon, Shin Se-kyung as Tech SGT Yoo Se-young, Yoo Jun-sang as Major Lee Cheol-hee, Lee Ha-na as Capt Oh Yoo-jin, Kim Sung-soo as Major Park Dae-suh, Lee Jong-suk as 1LT Ji Seok-hyun, Jung Kyung-ho as Capt Jo Tae-bong, Jung Suk-won as Tech SGT Choi Min-ho, Jo Sung-ha as Brigadier General Choi Byeong-gil, and Oh Dal-su as MSGT Min Dong-phil
Rating: PG-13, subject matter
Running Time: 113 min
Twinkies: 3 stars (because I like military jets)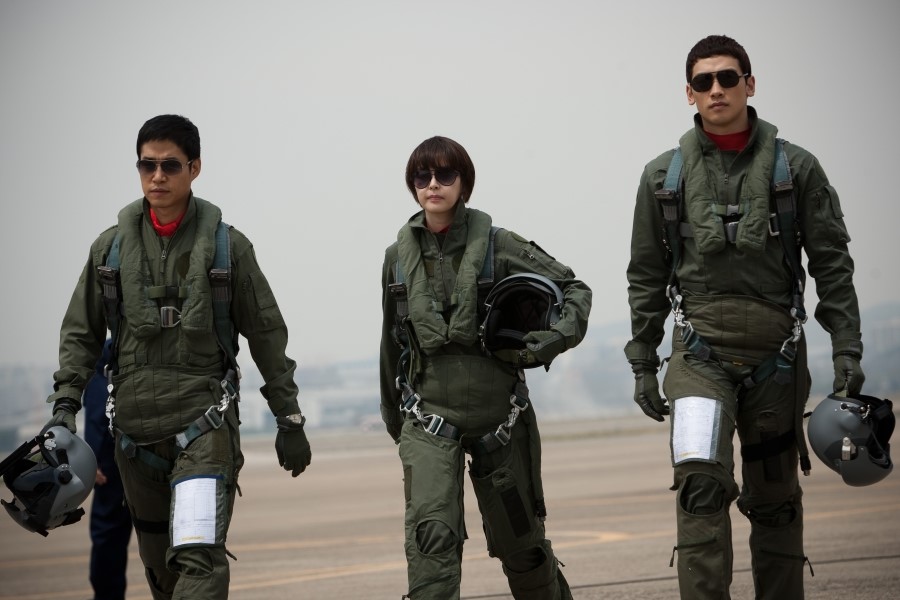 Synopsis: A South Korean Elite Black Eagles Air Force pilot Tae-hun finds himself transferred to a combat flying unit after a cocky, unplanned, and dangerous air show demonstration. On the first day of his transfer to F15K, he meets Cheol-hui, the unit's own top gun. Tae-hun is free-spirited, whereas Cheol-hui plays by the rules, and the two come into conflict almost immediately. This is the remake of director Shin Sang-ok's 'The Red Muffler' (1964). This movie is the soldiers' friendship and lives through one guy, who becomes true soldier after joining the Air Force.


Musings: First of all, this is not the first time watching this movie. I think your mindset has been clear and it is best to watch in the daytime. I admit the story isn't strong but for Rain fans, it can be enjoyable. As you can expect, you get the 'Top Gun' feels as you watch this.
1. Two men vying to be the 'top' or the 'best' – check.
2. Fast planes, jets and stunning special effects in the air – check.
3. The male attracted to the female while she is initially not interested – check.
4. The unexpected conflict with a known enemy – check.
The big difference is definitely in the insight and scenes showing you the North Koreans and their reaction to the 'incident'. At times, there are scenes that happen that don't come together until you've watched the entire movie.


Rain is convincing as the hotshot and hot head Capt Jung Tae-yoon. His pursuit of Tech SGT Yoo Se-young from the minute he sees her and her attempts to ignore him at first; But, as expected, Capt Jung's constant pursuit eventually wins the girl. What else would you expect? Unlike the U.S where fraternizing between officer and enlisted is frown on, I had to ignore this being ex-military myself. Nice original sound track and the customary Rain and others in different levels of undress to keep the fans interested.


R2B is a movie about camaraderie and friendship. You get to watch new recruits blend in and the men/women train together as well as fight together for a common goal. I was surprised at the many actors that were part of the cast. It made me realize just how much I wasn't paying attention the first time I watched this. Slow movie at the beginning but later picks up as the conflict between North and South Korean begins. Decent special effects for sure; however, if you aren't into military movies, this one is not for you.
Trailer is available on on YouTube Website only. The movie is available on various streaming websites.


I'm available on Twitter. Thanks to all of you Twinkles out here who are taking the time to read! If you have a suggestion for a future review, just leave me a comment! I'm always happy to have movie suggestions.

For December and the Christmas Holidays (just read above), it is all about me! I will be featuring some of my favorite movies that I watched that were released in 2015. My favorites will range from Chinese, Japanese, and especially Korean. Just in time for the holiday breaks from work and school. Stay tuned.